Earlier this morning, I saw that Jen over at
Tiny Oranges
had a post titled "Why I love My Husband." At first, I thought their anniversary might be the reason for this post and since I am a sucker for love, I wanted to read more. And boy, am I glad I did.
The post introduced me to a whole new club: The Happy Wives Club. No, it's not "desperate" or "real," just "Happy"! I visited
The Happy Wives Club
website to read more about it and absolutely love the concept. Basically, the creator, Fawn, is trying to promote happy and healthy marriages and inspire people to remember the things they love about their husbands. What a great concept! And her goal is to find at least 1 million happy wives all over the world to join the club.
While this is in great time for Valentine's Day, this is a year-round, life-long concept. But then again, that is what you sign up for when you get married, right!?!
So, here is
Why I Love My Husband
(or at least the reasons I can think of right now because I am sure I will forget something):
1. He loves me for me.
2. He puts our family first.
3. He is a fantastic father that absolutely adores his kids and they, in turn, adore him.
4. He loves to have fun.
5. He encourages me to try new things.
6. He works hard so that I can stay home with the kids.
7. He holds my hand every night when we go to bed.
8. He's athletic and strong.
9. He knows I am a stress case so he tells me as often as possible that everything is going to be fine.
10. He is incredibly loyal
.
(He's still a die hard Bears and Cubs fan after growing up in Chicago until he was in 5th grade, if that is any indication of his loyalty! Oh, and he's made our kids Bears fans, too.)
11. He is the life of any party.
12. He is as handsome as the day I met him and hasn't aged a bit. (That aging part is actually kind of annoying, but it does work in my favor since he is 6-1/2 years older than me!)
13. He knows lots of random facts/trivia which makes him the perfect Trivial Pursuit partner + he usually knows the answers to my obscure questions.
14. I love that my daughter is a Daddy's Girl and I love knowing that, unlike many men, he wanted a daughter for that very reason.
15. He could strike up a conversation with a rock if he had to, which is always fun to watch and makes my life so much easier when we go somewhere he won't know anyone.
16. He supports me in everything I do, even if my ideas seem crazy (which they rarely are).
17. He is the yin to my yang. We balance and compliment each other.
18. He's my rock. I can count on him for anything and everything.
19. He's the kind of guy that my dad told me I should hold out for..and I am so glad I did!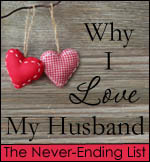 Posted by
Leslie