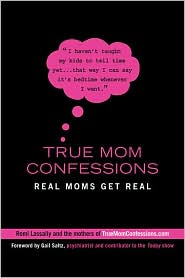 For Mother's Day I received several nice things. But one gift turned out to be a humorous, highly entertaining, and reassuring gift all wrapped into one.
If you haven't checked out the book
True Mom Confessions: Real Moms Get Real
, you must pick up a copy immediately! The book is based on real life confessions on the website
TrueMomConfessions.com,
and let me tell you, there are some funny ones, some sad ones, and some bad ones.
And then there are those that I can relate to all too well. (page 54: "When I forget my Chapstick, I use my Lansinoh nipple cream instead." I actually have a previous
blog post about the many uses of Lansinoh
. And no, it wasn't me that confessed that!)
The book is broken into chapters that all moms can understand. Even dads can relate. My husband bought the book for me because he thought some of the confessions were hilarious (mostly because some of the confessions were things that he already does himself).
Think you don't have time to read
True Mom Confessions: Real Moms Get Real
? Take inspiration from the book and tell your husband you have to go #2 for some quiet time in the bathroom. It may not be a lounge chair sipping a daiquiri poolside, but it is quiet, me time.
And (2) lucky HC&B readers have the opportunity to win this fantastic book!
Here's how to enter:
Post a comment here telling us why you would like to win this book
In your comment, please include your name (or blogger name) and location (city, state)
Post your comment no later than Midnight PST on Friday, June 5.
The winner will be announced shortly after June 5. The winner will not be contacted so please be sure to keep checking back.
Good luck!