Most moms that I know would love to be stay-at-home moms if they could afford it financially. And Stay-at-home moms I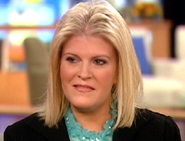 know would love the opportunity to work a few hours a day/week to feel like they are making their own money.
Good Morning America
, ABC's morning talk show has a great series on working mothers and stay-at-home moms. Tori Johnson, the workplace contributor for GMA and CEO of
Women for Hire
, leads the discussion and provides opportunities to find what works best for you. Some of these opportunities include becoming a secret shopper or customer service rep based out of your home.
Check out
Need Flexibility? Work from Home
on the GMA website for more information.
Picture of Tori Johnson courtesy of
Good Morning America
.