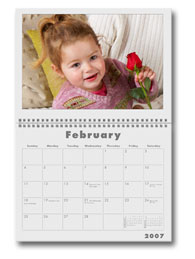 It never fails...even though January 1st comes and goes with a bang, I can never remember what year it is. By March I finally have it down. And from what I have heard, I am not alone.
A great way to speed up this 2007 learning curve is by making a calendar featuring your family and friends.
Kodak Easy Share Gallery
and
Shutterfly
have great calendars you can customize. I have used both in past years and been very happy with the final product.
A new calendar source I found this year is the
Costco Photo Center
.
Costco
has simliar calendar layouts to
Kodak
and
Shutterfly
but also offers a cool feature of adding pictures to dates throughout the calendar. (Kodak and Shutterfly only allow you to add text to a date.) This is a great way to always be prepared for upcoming birthdays, anniversaries, etc. In addition, Costco charges half the price of
Kodak
and
Shutterfly
(only $9.95). Of Course, photo calendars are always a great gift idea, too!