I love the idea of having a Game Night for a Valentines party. I have two ideas for this one being a family fun night and another an adults only game night. Let's start with the PG-version.
On the menu, I suggest you fire up your panini maker for a grilled cheese bar from
abeautifulmess.com
. Add a pot of soup or some chili and you'll have a great help yourself meal. Be sure to have a few bites on hand like pretzels and popcorn for snacking during game time! And it get kids involved, they can help make the super-fun
DIY cupcake toppers
as seen on
HWTM.com.
For desert and decor the adults and kids will go crazy for this
make your own ice cream sundae bar
!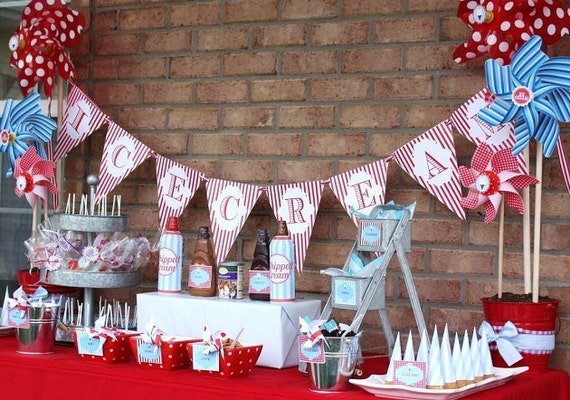 On to the real fun, the games! I think a great selection of games include ones that involve different numbers of people and ages.
Jenga is always a fun one and is great for the whole family.
You could make up your own Bingo Game cards at
DLTK-Cards
.
Our family has played Apples to Apples many times. Each player has seven RED cards with names of people, places or things on them. A GREEN card is randomly picked from a pile and set on the table: each GREEN CARD has a characteristic of an object or person, such as "Graceful" "Wild" "Neat" "Ancient", to name a few. Each person has to pick the RED card (out of their seven cards) that best matches with the GREEN card on the table, like the "pushups" red card would fit well with the "exhausting" green card, etc. Once everyone has placed one red card in the middle with the green card, a judge (assigned at the beginning of each round, so you take turns) picks the card that they think matches best, and the person that had that card gets a point. The adult version is 12+, but there is a junior edition too!
If you have lots of little ones, Spot it comes in many varieties. They have Spot It -sports, animals, abc's, numbers and shapes and so much more. There is no reading involved making it great for preschool and up. It is very easy to play, 2 cards are picked and the first player to guess the matching object on both cards gets the point. There are endless possibilities of matches in the deck.
Of course family fun night would not be complete without a door prize. You could keep score throughout the night, have a random drawing or even come up with a scavenger hunt. Pick up games when you see them on sale and fill it with dollar store candy and you'll have a basket of fun for less!
What are your favorite family friendly games?
Posted by
Liz