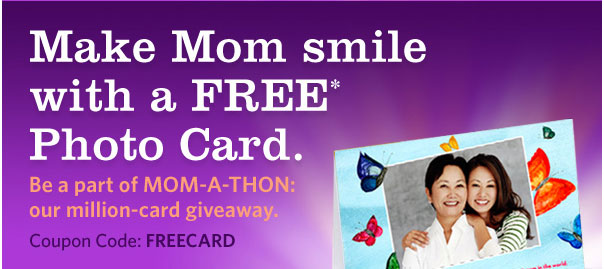 I got an email from
Kodak Gallery
this week that I thought was a really nice concept. They are calling it their MOM-A-THON: Million Card Giveaway. Basically, they are allowing you to make a free photo card for your mom in honor of Mother's Day (May 10).
All you have to do is go to Kodak Gallery to create a photo card. When you are ready to check out, you enter the promo code FREECARD. Naturally, you still have to pay for tax and shipping, but at least the card is for free. I have made these a few times for Father's Day (don't know why I seem to always forget on Mother's Day) and they have made truly special keepsakes.
And perhaps you can stealthily pass this free photo card idea on to your husband or children so that maybe (just maybe!) you could receive one of these cards, too!
(Offer expires 5/16/09)