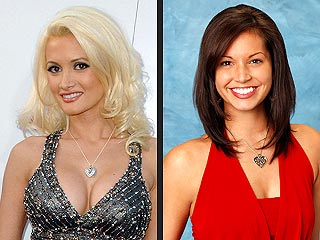 As you may have heard last week, Jewel and Nancy O'Dell had to drop out of the Dancing with the Stars competition due to injury. The question then remained, who would ABC get to replace them, if anyone at all?
Melissa Rycroft from the Bachelor has been named one of the replacements. I am not sure if she will dance tonight considering she had less than a week to prepare, but I think she has a good shot. Remember she was a Dallas Cowboys' cheerleader. (She was part of the DCC, y'all!) If you have ever watched the reality show about the Dallas Cowboys' cheerleaders' tryout process, apparently, Melissa was on it a couple of years ago.
The other replacement dancer is Holly Madison from The Girls Next Door, who recently broke up with magician Cris Angel.
All I can say is good for both of them. Way to make lemonade from lemons!